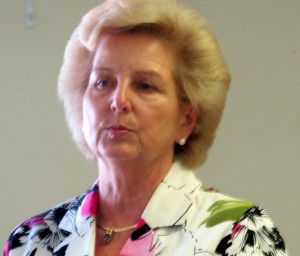 By Taffy Geith
Jo Turner introduced our guest, Opal Singleton, Director of Development for Million Kids and Rapha House International.  Opal had seen a lot of poverty, joined a church with Rapha House in Cambodia,  met a task force for Million Kids at an NAACP meeting at Bordwell Park and then began working for Riverside County on issues involving human trafficking.
     Million Kids has developed tools such as the program, Love Trap, that teaches administrators, parents and students how to avoid this "trap".  It seeks to form a nucleus –a group within a school, so they can identify a child who may be vulnerable—example: a runaway who may be missing, after being a chronic runaway.  Million kids received an $8,000.00 grant to work in churches so that they too, can help.
     Human trafficking is a psychological problem that can include porn addiction, sex and violent videos addiction.  Opal also talked of the Tijuana traffickers that connect sex predators from all over the world via the internet.  This is a 32 million dollar business because they have everything available—boys and girls of all ages that are lured into this trap.  Opal showed pictures of the Tijuana "line up" and of a Riverside girl who was traded to the Crips Gang in Compton.  This is a regional problem.
     This is a much abbreviated report on the excellent presentation by Opal Singleton.  She gave a much deeper analysis of the control of pimps, the intrusions of cartels and gangs on this problem and the connection of the terms: FORCE – FRAUD – COERSION in human trafficking.  Space here is limited.  One sentence that Opal gave that many will remember: "You are never so damaged you can't come home".  If children hear this from parents and believe it, it is a powerful tool that will stay with them.
      Opal is doing noble work in a world populated by the most vulnerable and most valuable among us.  We are better informed about this terrible problem, and we can only be more vigilant and alert in reporting any incident that involves human trafficking to the Riverside County Sheriff.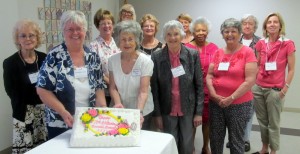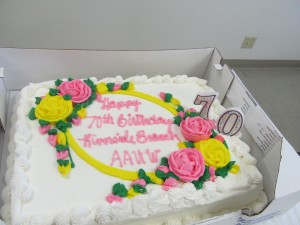 After lunch the Riverside Branch celebrated the 70th birthday of the branch with a cake.  Quite a feat to still be going strong at 70 !