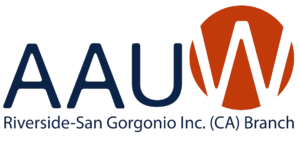 Advancing the Lives of Women and Girls Through Advocacy and Education
AAUW's Mission — AAUW advances equity for women and girls through advocacy, education, philanthropy, and research.
AAUW's Value Promise — By joining AAUW, you belong to a community that breaks through educational and economic barriers so that all women and girls have a fair chance.
Riverside/Moreno Valley Branch — is an active branch of the National American Association of University Women (AAUW), since 1909.  We provide an opportunity to learn, socialize and participate in activities positively affecting the lives of women and girls in our community.